The Dodgers
stormed back against the Angels on Memorial Day
for their most dramatic, and unlikely, win of the year. I was watching Prime Ticket after the game and I couldn't help but notice what song interrupted a pair of locker room interviews with Scott Van Slyke and Zack Greinke.
Somebody cranked up "My Own Worst Enemy," by Lit. You can't mistake that opening.
Whether the song was played for its impossible-to-resist-playing-the-air-guitar greatness at the beginning or because there was a message to send, somebody in that locker room was on to something.
The Dodgers, top to bottom, have been their own worst enemies all year long. Let's go through some key lyrics, in order:
I can't remember what was said or what you threw at me.
Nobody knows what the bullpen, which has nine blown saves, has been throwing. Josh Beckett was throwing some bad stuff out there for six weeks before going down with arm numbness. He also may have tried a little too hard to pitch through a groin problem.
There are rumblings that Zack Greinke may have rushed back too soon, and based on his lousy first two starts since breaking his collarbone, there might be something to that. Ted Lilly can't remember how to pitch if you start waving a bat in front of him.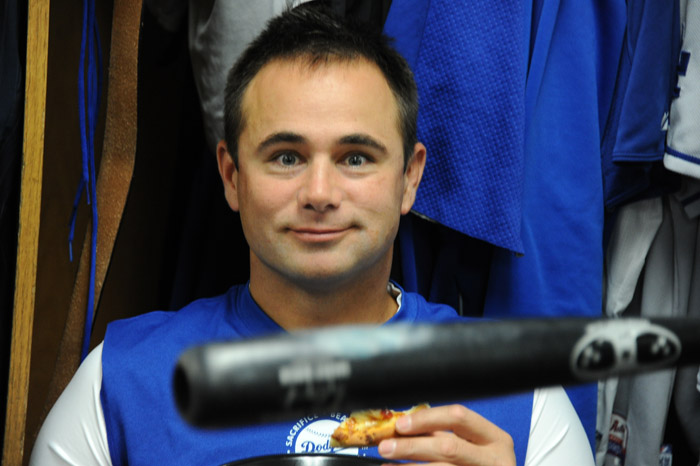 Please tell me, please tell me why?
Don Mattingly loves to bunt in odd situations, and asking Dee Gordon to bunt is, frankly, wishful thinking. He goes to the bullpen at odd times, which this year means any time. Juan Uribe is not a regular starter.
Ned Colletti continues to make puzzling roster decisions, like earlier this season when he kept three healthy catchers on the roster. Now they're fumbling around looking for a center fielder to replace Matt Kemp while Andre Ethier got his second career start in center. Luis Cruz is still on the roster.
Pictured: two pretty good hitters and #47 Luis Cruz (Ben Platt / MLB.com)
It's no surprise to me I am my own worst enemy
Matt Kemp's struggles are now being attributed to him pressing too much in the wake of serious shoulder surgery. Did Zack Greinke rush back from a broken collarbone too quickly? Brandon League is the closer. The bullpen has nine blown saves through the end of May.

Members of the Dodgers bullpen arrive ready for work.
'cause every now and then I kick the living shit out of me.
As a team, the Dodgers have kicked the living shit out of the ball all year long. They have 41 errors through the end of May, most in the Major Leagues. They're also tied for the worst team fielding percentage at .979. Dee Gordon has a career fielding percentage of .952. Ronald Bellisario had a spectacular fail with his no-look flip-behind-the-back to Adrian Gonzalez.

"My Own Worst Enemy" isn't a song that works for every team that slumps. It wouldn't have worked for the 1988 Dodgers or the 2010 Giants because, let's be honest, nobody expected them to win the World Series. It works for the 2013 Dodgers because when this team plays like it should, on paper, it's tough to not imagine them... well, let's just leave it at that.
The last line of the song happens to represent many Dodgers fans. We're frustrated and we just want to win. It also doubles as a personal message to Matt Kemp:
Can we forget about the things I said when I was drunk? I didn't mean to call you that.